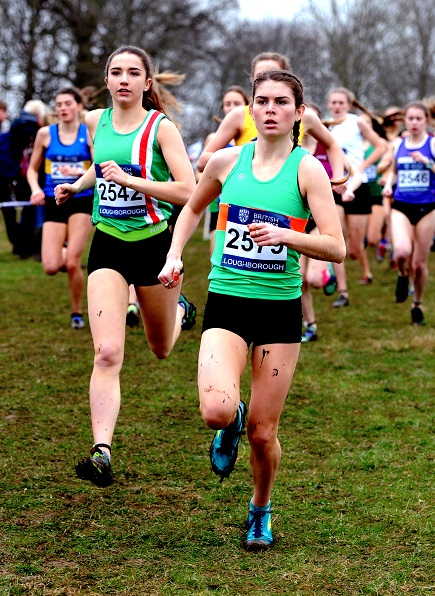 Swansea junior Cari Hughes (Andy Walling) returns to the 2018 Cardiff Cross Challenge hoping for another podium finish in the Junior Women's race. Hughes finished 2nd at last year's Cardiff Cross Challenge event and enters Saturday's race off the back of her most successful track season to date.
"I'm really looking forward to starting my 2018/2019 cross country season at Cardiff on Saturday. It's a great race and I'm excited to get back racing", said Hughes. The Loughborough University student broke the Welsh Junior 1,500m Record in the summer as she clocked a new lifetime best of 4:17:51 at the BMC Stretford Grand Prix, and was also crowned BUCS 1,500m Champion. Her summer achievements resulted in winning Junior Female Endurance Athlete of the Year at the recent Welsh Athletics Awards Dinner.
"Winning Female Endurance Athlete of the Year was a special moment for myself, I didn't really expect to win so it was a nice surprise. It was an honour to receive such a great award in front of a room filled with so many inspiring and talented people. It was an inspiring night, and I feel lucky to have been a part of it." Hughes' focus now switches back to the cross country terrain, a surface she has thrived on in recent seasons.
Hughes' cross country races in 2017 included winning the Welsh Schools title, Welsh Junior title and representing Great Britain at the IAAF World Cross Country Championships and European Cross-Country Championships. "I love cross country, I think it's great to get out in the cold and get stuck into some hard running. It makes you strong, physically and mentally. I like hills but I'm not a huge fan of mud, cross country courses like The Great Edinburgh Cross suit me well. However, the course on Saturday should also suit me. I personally prefer cross country over track at the moment, as I've struggled to perform to the standard I'd have hoped to on the track. However, I do think in a few years I will focus on track more and use cross country as preparation for that."
Whilst she admits it's difficult to place many expectations on her performance at the weekend, Hughes still hopes to be competitive at the sharp end of the Junior Women's race. "Having the first Cross Challenge series race of the season at Cardiff is always good. There will be a lot of Welsh support out on the course, which always helps and I'm really looking forward to it. As it's the first race of the season, it's always hard to gauge where you're at but training's been going well these last few months, so it should be good. I suffered with a slight cold last week, but I've had a full week to get back training and hopefully I'll be able to get right up there and challenge for a podium place finish once more Saturday. It looks like a high calibre field, so I'm excited to race hard and see what happens on the day."