Wales' Beth Kidger (Brighton Phoenix; Joel Kidger) enters this weekend's Cardiff Cross Challenge event off the back of her most successful track season yet. Kidger qualified for the Women's 1,500m Final at the British Athletics Championships in July, clocking a new lifetime best of 4:17 in the process, and was a bronze medallist at the Welsh Senior Championships two weeks later. We spoke to the 2017 Welsh Cross-Country Champion as she prepares to open up her season at Llandaf Fields on Saturday afternoon.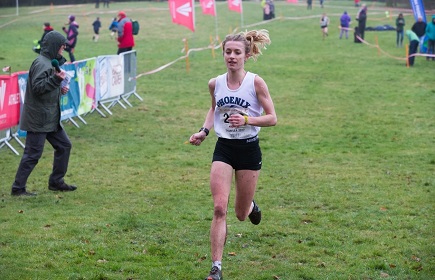 CXC: Firstly, Beth, how excited are you to be kicking off your cross-country season at the Cardiff Cross Challenge on Saturday?
BK: "I'm extremely excited to be starting my season in Cardiff and test myself against what I know will be a strong field. Being my first cross-country race of the year it won't be easy, but these are the type of races that will make me stronger."
CXC: We saw you enjoy your most successful outdoor season to date, how much confidence has that given you going into the winter racing season?
BK: "My track season has given me a huge confidence boost going into the winter. It was my first proper season after taking 6 years out of the sport competitively. I wanted to make a real comeback and had the aim of qualifying for the British Championships, so to qualify for the final with a new lifetime best exceeded my expectations."
CXC: Looking further ahead to the cross-country season, what are your main goals for the winter? 
BK: "My main aims this winter would be to have a strong run at the Liverpool Cross Challenge in November, and to regain my Welsh Cross-Country title from 2017. I'm aiming to combine a strong cross-country season with good form indoors too, so for me it's about finding the right balance. I'd like to focus on road and cross-country before Christmas to build a strong foundation, and then hopefully go away for a stint of altitude training before having a real go at the indoor season. I'd love to qualify for the British Indoor 1,500m Final and run a personal best over 3,000m too."
CXC: Finally, this will be the first time you've raced at the Cardiff Cross Challenge, how exciting is the prospect of racing in Cardiff at such a big meet as a Welsh athlete? 
BK: "I feel really excited about kicking off my season within the country I represent. I know the British Cross Challenge is a top quality event, so it's very exciting that the 2018 series will be launched in Cardiff on Saturday!"